on Wed Aug 28, 2019 12:54 pm
Message reputation : 100% (1 vote)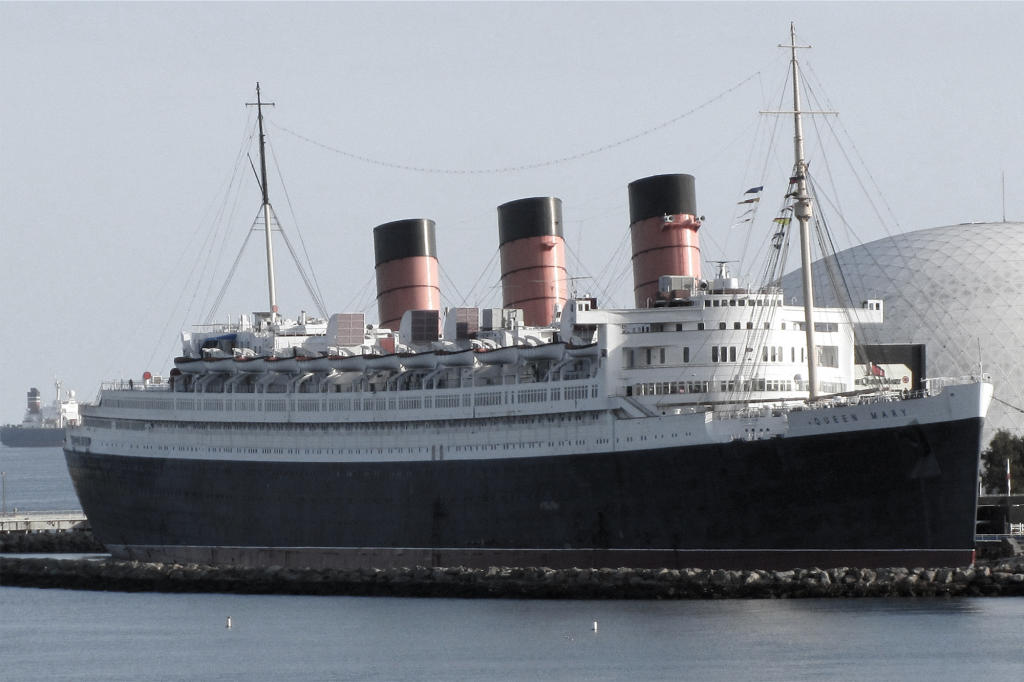 The Queen Mary ship served as a transporter ship during the World War I in 1939. It transported about 800,000 soldiers to Europe during this war and while it was relocated 10,000, the ship was ripped apart by another ship called the HMS Curacao. The ship, loaded with 239 members, was left abandoned in the middle of the sea. Now, this ship serves as a hotel in California. Along the years, staff and members reported seeing strange occurrences with ghosts and horrific sounds coming from the ship itself.
A sailor was said to have been amputated by a heavy door and now haunts the ship along with anybody else that might have died there including a young girl who has been reported to be playing a game of hide and seek in the room with an empty swimming pool.
The most popular and most common haunted room would be B-340. There would be complaints that toilets would flush on their own and faucets running or perhaps hearing footsteps outside or inside the room or even hearing knocking on the walls or door, seeing figures in the room by their bed at night and hearing voices. The room is now being charged at $499 per night if you choose to stay overnight in the hotel room. Furthermore, knowing the reputation of the haunted hotel, the guests are offered some ghost hunting instruments if they choose to contact or interact with the spirits of the hotel. They will be given tool such as an Ouija board, tarot cards, and crystal balls.
On the wall in the bathroom is even instructions on how to contact the actual Bloody Mary.
If you would like to know more about the ship's hauntings including some history on Mary herself, here is a link that you can read if you'd like to continue reading upon on it.
https://mysterioustrip.com/queen-mary-the-most-haunted-ship/
on Wed Aug 28, 2019 4:25 pm
Message reputation : 100% (1 vote)
I have never heard anything about that ship being haunted.
$499 per night?! For that much, if I didn't see, hear, feel a ghost I'd want my money back. For that much, I'd want an autographed 8x10 glossy picture of a ghost.
on Wed Aug 28, 2019 5:14 pm
Message reputation : 100% (1 vote)
Haha. Yeah, it can be expensive and I can understand because the ship is quite old and has a lot of history probably because it is haunted. But, if you read the link, I think it says that they have it at that price so it can help save their business.
on Wed Aug 28, 2019 5:27 pm
Message reputation : 100% (1 vote)
Oh, OK. I haven't read that yet. But at that price they should crank it up and sail to Tahiti for 3 days and nights.
on Wed Aug 28, 2019 6:47 pm
Message reputation : 100% (1 vote)
I agree. Perhaps move it up to 5 nights instead of three to make it worth the money, maybe even a week or two. But, the ship doesn't do sails anymore, since it is a hotel, it is mainly just planted on the ground for guests to walk in and out, spend the night if wanted.
on Wed Aug 28, 2019 6:52 pm
Message reputation : 100% (1 vote)
Haha. "5 nights". Really. That's $1,000 for two people to spend a night being possibly being haunted in their bed. They should have those slides like they use to evacuate airplanes.
on Wed Aug 28, 2019 7:04 pm
Message reputation : 100% (1 vote)
That would be interesting. At least make it worth the stay because $499 is a bit high.
on Wed Aug 28, 2019 7:23 pm
Yeah, make it the Queen Mary Waterpark and Haunted Ship.

Permissions in this forum:
You
cannot
reply to topics in this forum